The U.S. DOJ Charges 13 and Arrests 2 for Advancing Malign Schemes on Behalf of China's Gov't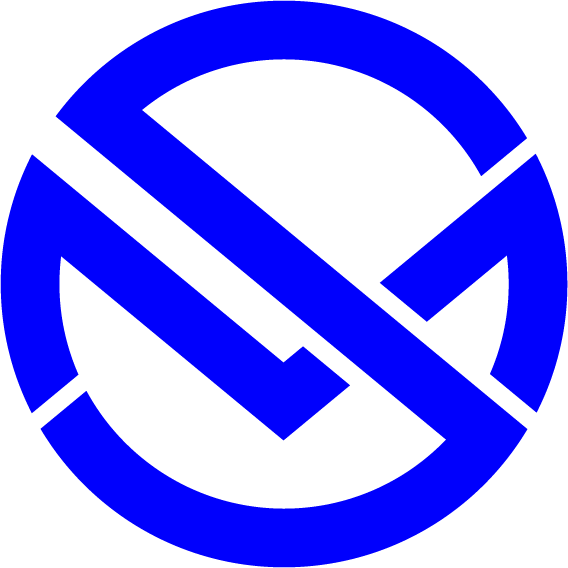 Merkle Science
4 minute read
Oct 25, 2022 2:28:29 PM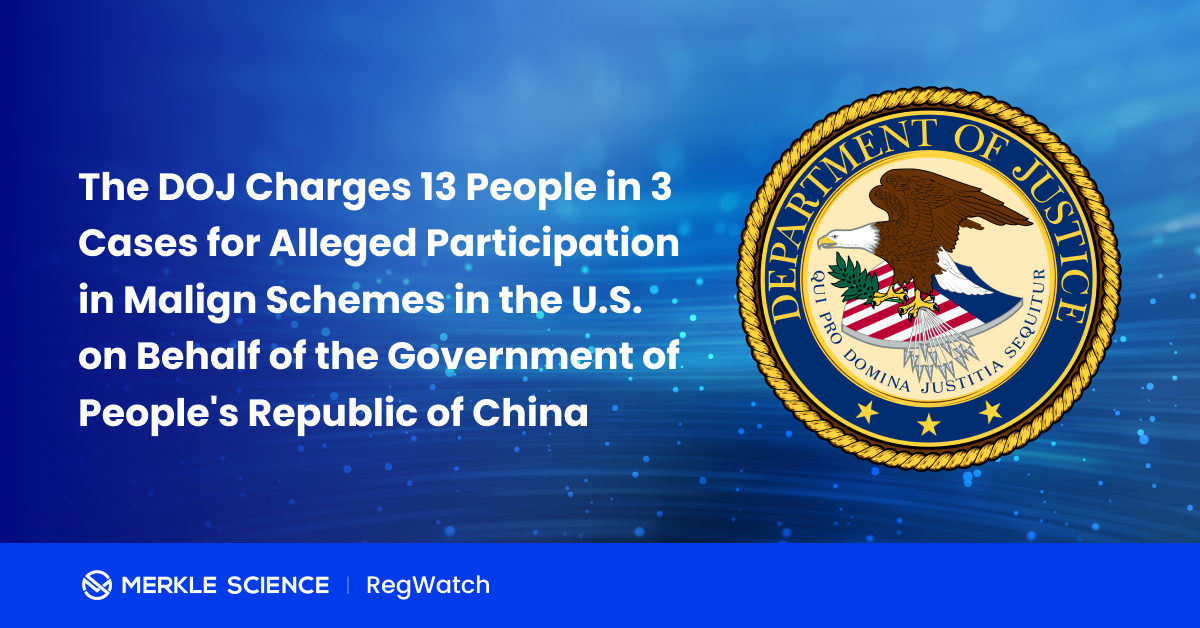 Introduction
According to the official release published on October 24, 2022, the U.S. Department of Justice (DOJ) has charged 13 individuals, including members of the People's Republic of China (PRC) security and intelligence apparatus and their agents for alleged efforts to unlawfully exert influence in the United States for the benefit of the government of the PRC.
"The actions announced today take place against a backdrop of malign activity from the government of the People's Republic of China that includes espionage, attempts to disrupt our justice system, harassment of individuals, and ongoing efforts to steal sensitive U.S. technology," said Deputy Attorney General Lisa O. Monaco.
Two out of three cases were filed in the federal court in the Eastern District of New York and one in the District of New Jersey.
Seven Chinese nationals, two of whom were arrested on October 20, 2022, for attempting to forcefully repatriate a PRC national residing in the U.S.
Two PRC intelligence officers were charged with attempting to obstruct a criminal prosecution of a global telecommunications company.
In the third case filed in the District of New Jersey, four individuals including three intelligence officers have been charged in connection with a long-running intelligence campaign targeting individuals in the United States to act as agents of the PRC.


United States v. Quanzhong An, et al., Eastern District of New York
Seven nationals of the PRC were charged with participating in a scheme to cause the forced repatriation of a U.S. resident. The defendants have been accused of executing a surveillance and harassment campaign against the said U.S. resident (Jon Doe-1) and his family. As part of the scheme, the defendants conducted the following activities:
Coercing the relatives of the family to travel from PRC to the U.S. to convince Jon Doe -1 to return to the country. At a meeting in a restaurant in Sept. 2018, the relative explained to Jon Doe-1's son that he was compelled and forced by the PRC government to travel to the U.S. as part of a plan to repatriate the 100 most-wanted fugitives,

Letter writing campaign

: In November 2017, one of the defendants wrote to Jon-Doe1's son warning him that "coming back and turning yourself in is the only way out." He further threatened that "avoidance and wishful thinking will only result in severe legal punishments."
The lead defendant Quanzhong An repeatedly threatened Jon Doe - 1 stating that he will keep pestering him and making his daily life uncomfortable in addition to targeting and monitoring his relatives in the PRC
Forcing Jon Doe - 1 to execute an agreement to return to the PRC in advance of the CCP's 20th National Congress and more. Find out more about it

here

.
To date, Quanzhong An and his daughter Guangyang An have been arrested, while the other five defendants remain at large.
Quanzhong An allegedly conducted surveillance of and engaged in a campaign to harass and coerce a Chinese-born U.S. resident living in New York to return to PRC as a part of "Operation Fox Hunt." This indictment is the latest in the DOJ crackdown on PRC's covert expatriation campaign. Operation Fox Hunt is a global initiative by the PRC Ministry of Public Security, which was developed to locate and repatriate alleged fugitives who have fled from PRC to foreign countries.
Under Operation Fox Hunt, PRC government officials have taken such law enforcement actions on U.S. soil in a unilateral manner without approval of or coordination with the U.S. government.
Lawful foreign law enforcement activity is largely reliant upon the coordination between the U.S. and relevant foreign government authorities. To this end, a foreign government can send out an official extradition request, an official request for information located in the U.S., a notice of official travel by foreign officials, or a formal request for foreign officials to conduct official business in the U.S. and more.
United States v. Dong He, et al., Eastern District of New York
The DOJ charged Guochun He and Zheng Wang with attempting to obstruct a criminal prosecution of a global telecommunications company. Though the DOJ did not name the company the details in the criminal complaint affidavit filed in the support of the charges align with a prosecution in the Eastern District of New York of Huawei, a Chinese telecom equipment manufacturer, which the U.S. previously charged with stealing trade secret and intellectual property information. Huawei was indicted for financial fraud and racketeering conspiracy in 2019 and 2020.
"This was an egregious attempt by PRC intelligence officers to shield a PRC-based company from accountability and to undermine the integrity of our judicial system," stated Attorney General Merrick Garland.
Per the court documents, Guochun He and Zheng Wang are intelligence officers executing operations targeting the U.S. on behalf of PRC and for the benefit of Huawei. They orchestrated a scheme to steal files and other information from the U.S. Attorney's Office for the Eastern District of New York related to the ongoing federal criminal investigation and prosecution of Huawei. Guochun He also is charged with money laundering based upon a bribe payment of $41,000 in Bitcoin made in furtherance of the scheme.
They allegedly paid an employee working for a U.S. government employee whom they believed they had recruited as an asset. They did so to obtain confidential information regarding witnesses, trial evidence and potential new charges to be brought against [Huawei] for the purpose of obstructing justice. The "asset", however, was working as a double agent under the supervision of the FBI.
In one incident that took place in October 2021, the indictment alleges, the undercover agent used an encrypted message to send a single-page document to the defendants that appeared to be classified as "SECRET" and that detailed U.S. plans to arrest two employees from Huawei living in PRC. He responded by stating that the document was exactly "what I am waiting for" and paid approximately $41,000 in Bitcoin for stealing that document. More recently, in September 2022, Guochun He offered to pay the undercover agent an additional ~ $20,000 in Bitcoin
If convicted, Guochun He faces up to 60 years of imprisonment and Wang faces up to 20 years of imprisonment. Read the full complaint here
United States v. Wang Lin et al., District of New Jersey
Four individuals including three PRC intelligence officers were charged with allegedly engaging in a wide-ranging and systematic effort to target and recruit individuals to act on behalf of the PRC in the U.S. In the past 10 years, they tried to recruit people who would assist them in providing information, materials, and assistance to the Chinese government in ways that would further China's intelligence objectives. Consequently, they targeted university professors and former government officials — including former federal law enforcement and state homeland security officials.

The defendants are charged with conspiracy to act in the U.S. as agents of a foreign government — PRC without prior notification to the Attorney General of the United States, as required by law, and to direct such unlawful action by others in the United States. The conspiracy charge carries a statutory maximum term of imprisonment of five years and a maximum fine of $250,000. Read more here